Web design has clearly undergone significant changes over the years. I first started designing websites back in 1996. Things were quite different in those days and the web has come a very long way since then. For many years, when I would build a website I would consult with the client, ascertain demographic information, and through consultation (discovery), understand the client's business needs. I would then devise a navigation approach (site architecture) based on an understanding of the content. I would establish a look/feel derived from this information and deliver a website. To be honest, like most in those days, I did very little for
Search Engine Optimization
(SEO). Google wasn't what it is today. I would add meta tags for SEO and advised the client to write for the web, but not much more. Today I still do all those things, however it doesn't end there. If it ended there, I would be doing my client a disservice.
Our Web Design Approach Today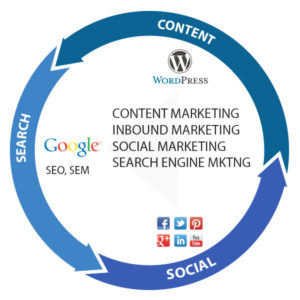 Today we do things much differently. We approach the web design process on three distinct, yet connected disciplines:
Content
,
Search
, and
Social
. We have a different perspective on what we call success for a website these days, and it's based around your ranking in the
Search Engine Results Page
(SERPs), how well your customer engages with you socially and how that results into conversions, whatever a conversion means for your business or organization. We believe this all hinges around your content.
Web Design and Content
You've all heard the phrase, "Content is king," well that's never been truer than today. Nothing drives the success of your website more than content. It drives conversions, your messaging/tone, it determines how well you engage through Social Media channels and it ultimately determines how well you rank on Google. The important thing to understand and remember is that
content
alone is useless without
search
and
social
working together.
Search
is nothing without connecting
content
and
social
. And
Social
is useless without
content
and
search
. Although
content
is king, it must be used in concert with
search
and
social
to be effective. They are intertwined and need each other as a package.
Web Design SEO and Social Media
Using specific tools, we can determine the most effective way to use keywords to achieve the proper keyword placement, keyword-density-percentage, the proper word-count, Meta descriptions and much more to achieve a high SEO score for all your copy/content. In addition, we can create a social media strategy to optimize social engagement to foster a relationship with your customers and promote trust, thought leadership and most importantly, confidence in your company, so when your customer is ready to buy, they'll come to the one they trust – you. Tying this all together, once again, the better your content on your social media channels, the better your engagement will be and the more inbound links you'll have going to your website and thus, higher ranking in the SERPs on Google.
Web Design and Content Marketing
We can even create the content for you, if resources are an issue, or if you rather just leave it in the hands of professional content creators. There's a couple caveats to that and let me qualify it by saying, we'll only create content for one company per industry in a local market, so there's not a conflict of interest on our part, and your content must be a good fit for our writers.
Web Design: The New-School Approach
No, it's not enough to create a website, hand you the keys and wave goodbye. It's much more than that, these days. That's the old-school approach. We prefer the new-school approach. If you're contemplating a website for your startup or a redesign for an existing website and you're dealing with a design firm that's not advocating this approach, you may want to reevaluate your options. There's one sure-fire way to achieve success for your website and your bottom line and we're convinced it's through
content marketing
. Content marketing, in conjunction with a little traditional advertising, can accomplish a great deal of good for your company.
Schedule a free consultation
to learn more about this new-school approach to web design; we love to discuss this stuff.