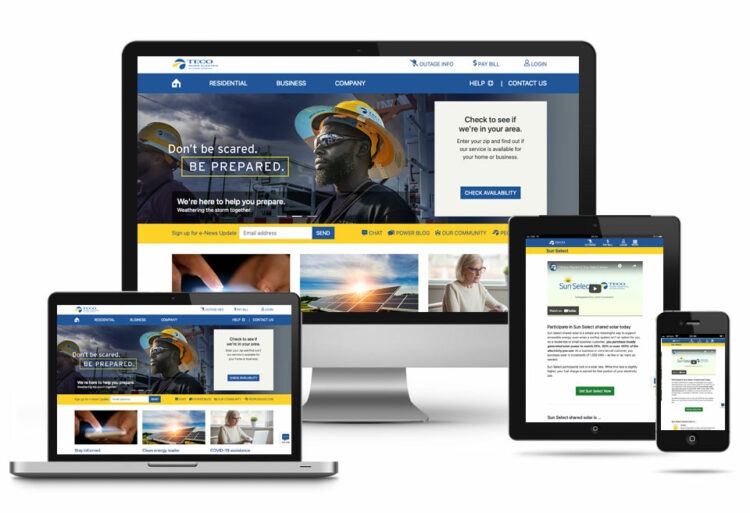 The Tampa Electric website is a site I designed as the lead designer and Supervisor of the Multimedia Design Group with TECO Energy. Designing and producing the Tampa Electric website was part of a suite of corporate websites designed to integrate with each other. Tampa Electric, Peoples Gas, TECO Energy and TECO Account were all designed and produced to allow the customer seamless navigation between the sites which is an enhancement requested by customers who frequently manage their accounts on tecoaccount.com. The site is built using ASP.net and CSS3.
Having worked for TECO as a web designer and Supervisor of the Multimedia Design Group, a design team in Creative Services in Corporate Communications for nearly 19 years, a great bulk of my design work is present in TECO Energy, Tampa Electric and Peoples Gas. Having retired from TECO not so long ago the corporate sites contain my design work, of course I had a great deal of help from my team with production and coding. My last years were spent shortly after the acquisition of TECO from Emera, where I designed and produced web sites, HTML email, social media solutions, kiosks and multimedia presentations for Emera, TECO Energy and affiliate companies.
Nick France Design located in Brooksville, FL is a full service web and graphic design firm specializing in web design and development for small business and non-profit organizations. We also offer Social Media consulting and services, as well as branding and print design services.
More from the category: Web Design
Date

September 23, 2021

Categories

Skills

ASP.Net, CSS

Link