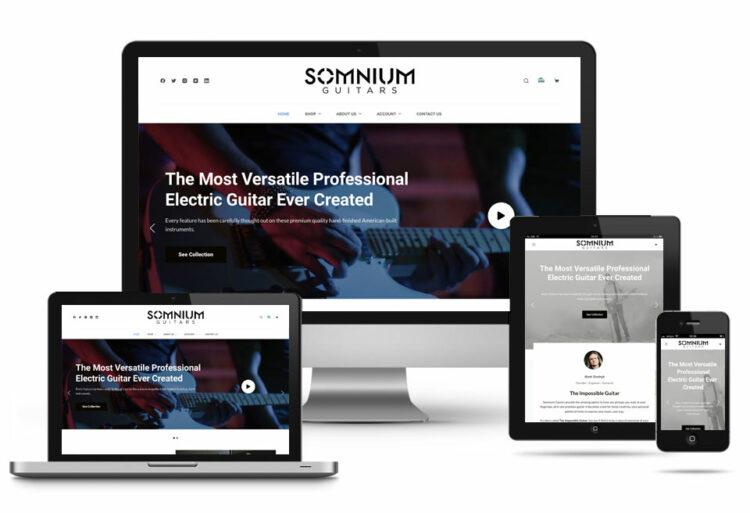 Redesigning the Somnium Guitars website was an exciting proposition for NFD for multiple reasons. The first being the opportunity to help a local business grow and move to the next level, simply because we respected the product so much. Additionally, the entire staff was a pleasure to work with and provided excellent feedback on the entire project. 

The fact that we got to work on a guitar website was reason enough to be excited. We've begun to establish a niche in the music industry over the past several years and this site was right in our wheel-house. That being said, this type of project was so exciting to build because the nature of the music industry is so creative to begin with, the possibilities were endless. 
With the design process being such a pleasure, and that would have been enough, the development side was equally exciting. It was the most challenging e-commerce endeavor we've ever taken on.
Some of the Somnium Guitars Website Redesign interior pages
The Website Redesign E-commerce solution
Using the WordPress platform in concert with the Woo Commerce e-commerce solution, we created an online shopping experience for guitarists that gives them the ability to custom build their very own dream guitar. We did this by creating a variable product with 18 different options for each guitar. That translates to over 1400 variables…a very ambitious undertaking, to say the least.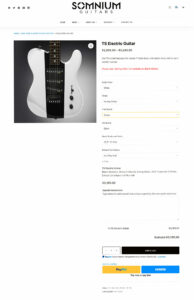 We coupled that with a "Guitar Upgrades" category to customize your purchase further with nine more custom options. Besides that, a few more categories for cartridges, pickups and accessories are available to complete the experience.
The about section really tells the story of this company and their awesome guitars. It's often referred to as the "Impossible Guitar" because of its ability to achieve an endless combination of tones. It achieves this by its patented pickup system allowing it to swap pickups in a multitude of combinations in mere seconds. This really is a solid, well-designed guitar, built with extreme attention to detail. 
From business information, to how they are made, to their amazing team, you really get a feel of where this company is heading and the journey that's unfolding. There's lots of video that we highly recommend you check out to really understand how amazing these guitars are. The videos are accessible through an interface that we believe rivals YouTube. 
The Somnium Guitars Website Redesign has been one of our most ambitious website builds to date, we couldn't be more proud to be a part of this world-wide company, which for us, is a local company that will make all of Brooksville, FL proud.
More from the category: Web Design
Date

October 27, 2022

Categories

Client

Somnium Guitars

Skills

WordPress, Woo Commerce, CSS, Photoshop, Illustrator

Link