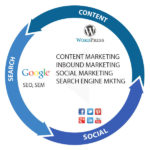 Note: On August 28, 2014, Google ended their Authorship program. To discover what this means for you as an online content creator, check out this post by Sonia Simone.
You all know I'm big on content marketing and for good reason. It has become an integral part of designing and developing websites. Content is woven into search, and social to the point that they are no longer separate disciplines. In fact, one doesn't work without the other.
Writer and founder of copyblogger.com Brian Clark has coined 2013 as "The year of the online writer." He encourages writers to claim their Google Authorship in what he calls the biggest shakeup in search since the link. It's all done with a little code in the website and the writer's Google + account.
Google has redefined the rules of search and for the better in my opinion. Penguin and Panda has banished the thinly veiled content sites and replaced them with sites rich in quality content that are useful as well as relevant to the user's search terms. If they're not, they don't get the ranking in the SERPs. SEO is no longer keywords and descriptions contained in meta tags. It is a complete strategy that works in concert with content and social. Google + is a big part of SEO, in fact Google + essentially is Google, It's also a big part of content marketing, and of course it's social.
Take a moment to get acquainted with these points and assertions by exploring the links above. If you're a business owner, your business may depend on it. If you're a writer, marketer or web designer/developer, your career may depend on it.